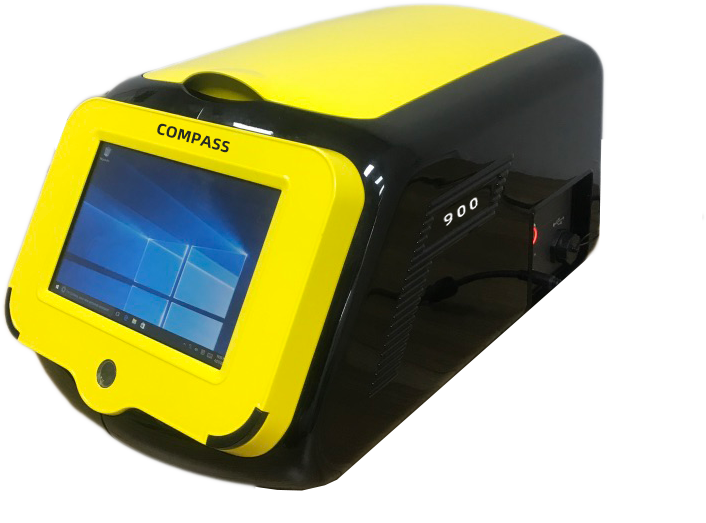 Product Name:Compass 900 Portable XRF Gold Analyzer

Compass 900
Portable XRF Gold Analyzer
Your Field Lab
Simply the Best
Ø Portable precious metals testing on the move
Ø Large sample chamber
Ø Low initial costs
Ø Minimal upkeep and operational costs
Ø Non-destructive analysis
Ø Fast results
Ø Accurate and Precise
Background and Introduction
Throughout the precious metal life cycle – from refining to recycling – the goal is always to ensure quality, control costs, and achieve accurate purity analysis. With the volatility and high price of precious metals, even a small variation in composition accuracy can be expensive.
Using XRF (X-ray fluorescence) spectrometer makes gold and other precious metals analysis easier and quicker. Accurate and non-destructive, Compass 900 XRF gold analyzer ensure fair price without the need to use chemical method, fire assay or alternative testing methods, which need to solve or destruct the sample itself.
Elegantly developed specifically for on-site use in retail or other gold transaction environments, yet portable and solid for use in remote testing locations, the Compass 900 gold tester ensures fast, highly precise results and is completely non-destructive analysis. The Compass 900 XRF gold testing machine analyze the purity and concentration of gold and other precious metals with marvelous simplicity and performance.
Features:
>Ideal for the analysis of jewelry and precious metals as it leaves no scratch or damage to the tested item and no loss of material.
>Faster, more comprehensive analysis than fire assay, with comparable accuracy.
>Simultaneously measure all the elements including the precious metals and impurities without need to switch calibration based on material you're analyzing
>The Compass 900 is designed to be compact, taking up minimal space.
>Small spot collimator for analysis; ability to switch between 1mm, 2mm and 3 mm diameter spots automatically. Make it easier and qualified for different applications.
>The analyzer is a safe and secure system that requires minimal training.
>One-button operation provides the most friendly customer experience.
Typical Applications:
• Gold content Analysis Karat Identification
• Precious metal Ag, Pd, Pt and Rh etc analysis
• Gold impurities analysis
• Coating thickness measurement
• Hazardous metals Inspection: Cd, Pb, Ir, Ru
• Electroplate liquid analysis
Specifications
Detector

Silicon Detector

Excitation Source

4 watts high efficiency micro tube

50kv Max,200uA Max

Working temperature

-20 to 50 °C

Measuring time per sample

10-120 seconds

Element Range

S(16)-U(92)

Sample Type

Solids ,liquid and powders

Factory Calibration

Precious Metal

Instrument Dimension

420mm*280mm*230mm(L*W*H)

Sample Chamber Dimension

240mm*200mm*80mm(L*W*H)

Weight

18 kg

Operation touch Screen(1280*800)

8 inches Windows 10 based OS

External Connection

USB Port, Blue-tooth, Wi-Fi, GPS

Test Report

Excel, PDF

Spares and Consumables

Pure gold standard

Ring Holder

Test window film
The Compass 900 handsome design fit for the consumer showroom environment, it can also be networked for high productivity QA/QC jobs. The gold analyzer can be transported easily to any location where testing is needed.
Test Performance of the 18 karat gold
Test No.

Work curve

Au

Ag

Ni

Cu

Zn

1

Au FP

75.10

14.75

2.01

4.00

4.03

2

Au FP

75.04

14.73

2.02

4.04

4.06

3

Au FP

75.06

14.74

2.01

4.05

4.03

4

Au FP

75.06

14.75

2.01

4.05

4.03

5

Au FP

75.06

14.74

2.02

4.06

4.02

=

6

Au FP

75.07

14.76

2.01

4.05

4.01

7

Au FP

75.07

14.77

2.00

4.05

3.99

8

Au FP

75.05

14.76

2.01

4.06

4.00

9

Au FP

75.05

14.76

2.02

4.06

4.00

10

Au FP

75.04

14.77

2.03

4.05

3.99

SD — Standard deviation

n - Test times





RSD= ×100%。

11

Au FP

75.05

14.77

2.03

4.05

3.98

12

Au FP

75.05

14.75

2.05

4.06

3.98

13

Au FP

75.05

14.74

2.05

4.05

3.99

14

Au FP

75.05

14.74

2.05

4.06

3.99

15

Au FP

75.04

14.75

2.06

4.07

3.99

16

Au FP

75.03

14.75

2.05

4.07

3.99

17

Au FP

75.04

14.75

2.05

4.04

4.01

18

Au FP

75.04

14.76

2.03

4.03

4.02

19

Au FP

75.05

14.77

2.03

4.02

4.01

20

Au FP

75.05

14.76

2.04

4.03

4.01

Average (%)

75.05

14.75

2.03

4.05

4.01