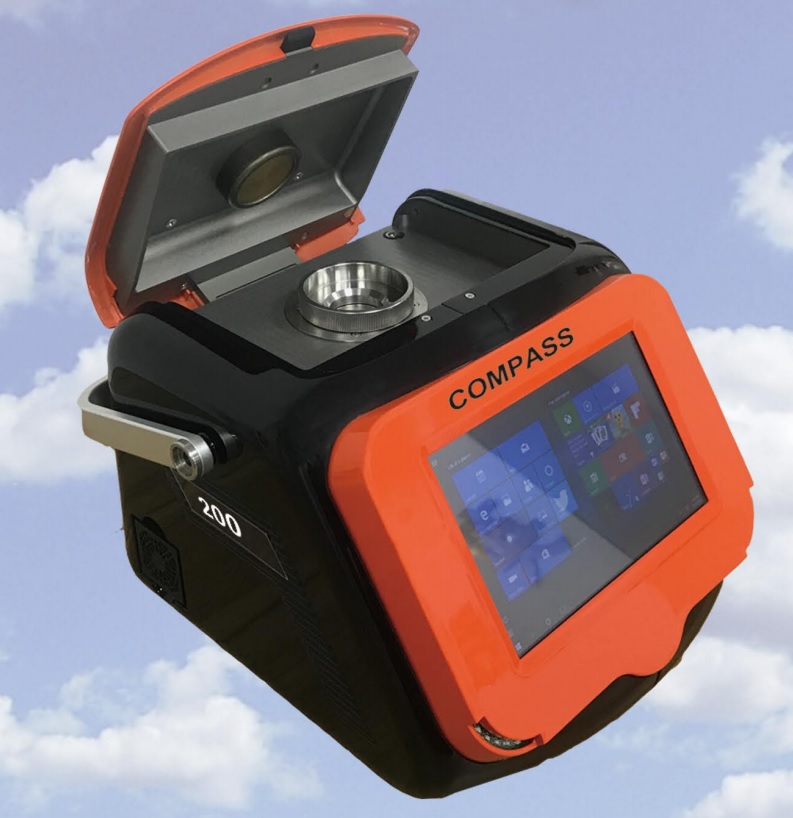 Product Name:Compass 200 Portable XRF Soil Analyzer

Compass 200
Portable XRF Soil Analyzer
Your Field Lab
Simply the Best
Ø Your filed elemental analysis Lab that goes anywhere
Ø Nondestructive with accurate, consistent analysis in minutes or less
Ø Easy to use, with little operator training required
Ø Bench-top design delivers more stable and precise test performance
Background and Introduction
Compass 200 X-ray fluorescent (XRF) analyzer has the capability to non-destructively quantify or qualify nearly any element in soil or mineral samples, depending on specific instrument configurations. It has already shown to successfully estimate a whole suite of soil parameters in a number of disciplines, including archaeology, geology, agronomy,and soil pollution . The analysis of soil elemental concentrations aids the assessment of soil
mineralogy, fertility, salinity, acidity,and cation exchange capacity (CEC), alongside metal uptake by plants and soil heavy metal contamination. Compared to conventional laboratory analysis, the determination of soil elemental concentrations by XRF is much faster, less expensive,and non-destructive. The best results are obtained when samples are homogenized, dried, finely ground, and sieved ,but sample preparation is not always necessary as Compass 200 can be directly employed in the field.
The Compass 200 makes it possible to perform efficient quantitative element analysis of soils with a minimum of sample preparation
Features:
>Strong software with standard-less fundamental parameters (FP) algorithm, or use its empirical calibrations when results traceability and superior accuracy are needed
>Extremely easy to use with Load-and-Start for sample analysis
>Minimal Sample Preparation: great for in-situ testing
>Fast Qualitative and Quantitative Analysis
>Advanced data management system with flexible multiple data transport methods including USB cable connection, storage card, Wi-Fi and Bluetooth
>No PC required, alleviating the worry of a computer crash and loss of data
Typical Applications:
>In-Situ Soil Screening/ soil surveys
>Waste effluent monitoring
>Contaminated land assessment/Hazardous and toxic metals in soil complied with EPA Method 6200
>Site remediation and validation/Ex-Situ Soil Analysis
>Pt, Pd and Rh in the catalyst
>Consumer goods testing: more precise testing for Pb, Cd in toys, jewelry, packaging, and food etc.
Specifications
Detector

Silicon Detector

Excitation Source

4 watts high efficiency micro tube

50kv Max,200uA Max

Working temperature

-20 to 50 °C

Measuring time per sample

30-200 seconds

Element Range

S(16)-U(92)

Sample Type

Liquid, powders and solids

Factory Calibration

Metals in Soil

Instrument Dimension

270mm*320mm*230mm(L*W*H)

Sample Chamber Dimension

170mm*110mm*17mm(L*W*H)

Weight

9.4 kg

Operation touch Screen(1280*800)

8 inches Windows 10 based OS

External Connection

USB Port, Blue-tooth, Wi-Fi, GPS

Test Report

Excel, PDF

Consumables

Sample test Mylar

Soil sample cup

Sampling spoon

Test window film
High precision results without daily calibration needed
Test Performance of the Soil Samples
Instrument Model :

Compass 200

Unit: PPM

Test Time: 200 seconds

Test Sample:Soil Standard Sample

No.of
Reading

Calibration
Curve


V

Cr

Co

Ni

Cu

Zn

As

Pb

Cd

1

Soil

96.2

64.6

16.0

20.5

26.0

695.1

54.3

116.3

5.0

2

Soil

96.0

67.5

16.3

25.4

28.1

688.8

52.1

118.4

4.4

3

Soil

99.0

69.3

16.3

23.6

29.2

683.7

55.5

116.7

4.9

4

Soil

96.1

63.6

16.4

21.7

28.1

692.1

54.5

119.1

4.7

5

Soil

98.6

66.4

16.3

28.0

25.2

689.8

51.5

118.8

4.5

6

Soil

93.8

66.1

16.3

29.0

22.5

683.6

55.1

117.4

3.7

7

Soil

96.0

70.4

16.7

23.7

30.5

692.5

56.6

120.0

4.4

8

Soil

97.7

63.5

16.5

27.3

26.0

685.9

52.5

116.4

3.9

9

Soil

97.4

65.9

16.6

24.9

31.3

697.7

54.3

118.7

3.4

10

Soil

99.8

74.4

16.6

22.1

26.6

686.8

55.3

118.2

3.6

11

Soil

97.3

66.9

16.5

22.0

26.5

682.2

56.4

116.9

5.7

Certified Value of Sample

96.0

62.0

14.2

20.4

21.0

680.0

55.5

109.0

4.3

Average

97.1

67.2

16.4

24.4

27.3

688.9

54.4

117.9

4.4

Standard Deviation-Sn

1.61

3.07

0.18

2.67

2.39

4.79

1.62

1.18

0.64

RSD

1.655%

4.567%

1.082%

10.961%

8.754%

0.695%

2.972%

0.997%

14.655%