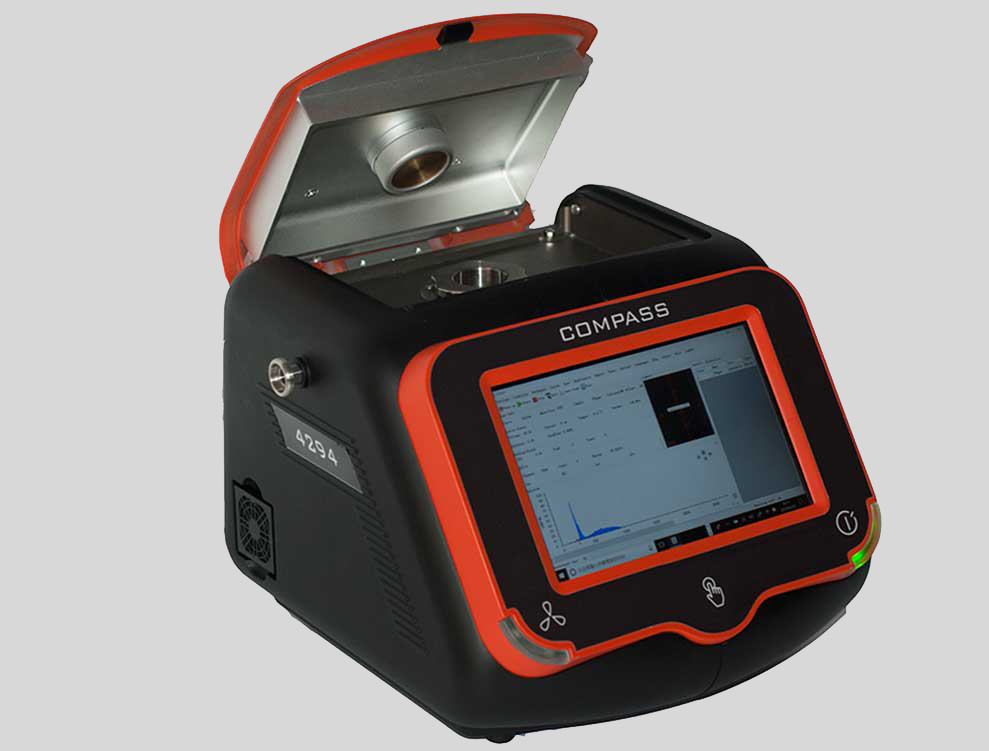 Product Name:COMPASS 4294-Portable XRF Sulfur in Oil Analyzer

Background
Quick on-site analyzing the Sulphur content of fuel oil on-board a ship with minimum operation is essential for the shipowners and operators to comply with the latest IMO (MARPOL) regulations.
The IMO (International Maritime Organization) continuously sets new standards to minimize and control the harmful polluting exhausts from vessel engines. IMO is the World's largest maritime organization with over 170 member states and acts as a regulatory agency for the international maritime industry.
These regulations are enforced both globally and locally by each country and failure to comply can lead to heavy penalties.Based on standard method such as ASTM D4294 and ISO 8754, XRF spectrometer is one of the most effective technology of establishing fuel compliance with the Sulphur and other elements regulations
It will be essential and compulsory for each vessel to comply with the Sulphur limits of 0.10% m/m in SECAs or 0.50% m/m in all other areas worldwide.
Meanwhile other similar sulfur control is widely applied, for example In India, all automotive diesel and gasoline was transitioned to Bharat IV with a 50 ppm maximum sulfur in April 2017.
Maximum permissible level of sulfur in fuel in Europe for 2003/17/EC (or EURO VI) directive requires a maximum amount of sulfur in fuel of 10 ppm.
Aviation Turbine Fuels specifications such as ASTM D1655 and D6615 require a maximum sulfur of 3000 ppm.
Introduction
The Compass 4294 Energy-Dispersive X-Ray Fluorescence (EDXRF) systems was especially designed for on-board total sulfur content analysis in wide concentration range from ppm to percent levels.
The portable compact design with low detection limits and high accuracy makes the Compass 4294 the ideal tool for sulfur testing at sea,offshore or on land.
Features and Benefits
• Portable, rugged, compact design for total non-destructive sulfur analysis
• Quick analysis in 130 seconds per sample with minimum sample preparation
• User-friendly software and One-touch measurement start for testing
• Training for routine analysis takes only minutes
• Low cost of daily analysis without any gas consume
• Built for tough environments
• Intuitive interface displayed on the large 8 inches touchscreen
• Low cost of maintenance
Key Applications
Analysis of Sulfur content in bunker diesel fuels
Analysis of hydrocarbon samples of heating oil, kerosene, jet A, vacuum gas oil (VGO), and crude oil
Analysis of Cl, Mg and K in marine fuel
Analysis of catalysts in the fuel- avoiding engine failure
Specifications
Detector

High Resolution SDD

Excitation Source

high efficiency micro tube

50kv Max,200uA Max

Working temperature

-20 to 50 °C

Test environment

Air(4294) and vacuum(4294 Plus)

Measuring time per sample

130 seconds

Sample Type

Liquid, powders and solids

Factory Calibration

Low sulfur: 10ppm- 100ppm

High sulfur: 0.01%-5%

Detection Limit of Sulfur

3.8ppm(Air)- Compass 4294

1.5ppm(Vacuum)- Compass 4294 Plus

Instrument Dimension

270mm*320mm*230mm(L*W*H)

Sample Chamber Dimension

170mm*110mm*17mm(L*W*H)

Weight

9.4 kg

Operation touch Screen(1280*800)

8 inches Windows 10 based OS

External Connection

USB Port, Blue-tooth, Wi-Fi, GPS

Test Report

Excel, PDF

Consumables

Sample test Mylar

Oil analysis sample cup

Sampling pipette

Test window film
High precision results without daily calibration needed.
Test report of Sulfur in oil standard samples
Model

Compass 4294

Test Time: 130 seconds

No.

Calibration Curve

Sample 1

Sample 2

Sample 3

1

Mineral Oil

315

0.1035

1.0085

2

Mineral Oil

303

0.1026

0.9905

3

Mineral Oil

305

0.1021

0.9995

4

Mineral Oil

299

0.1035

1.0095

5

Mineral Oil

292

0.1025

0.9978

6

Mineral Oil

307

0.1033

1.0088

7

Mineral Oil

311

0.1048

0.9986

8

Mineral Oil

305

0.1016

0.9999

9

Mineral Oil

307

0.1015

1.0095

10

Mineral Oil

295

0.0995

0.9988

Certified Value

300ppm

0.1000%

1.0000%

Average Test Result

304

0.1025%

1.0021

Standard Deviation Sn

6.9992

0.0014

0.0065

RSD

2.30%

1.41%

0.65%
We offers a full range of technical support to keep you up and running.
Our Service
>On-site installation and service by factory engineer
For a in-depth training and technical support
>Remote diagnostics
On-line support over the internet for a fast response to your problem
>Preventive maintenance
Ensures your analyzer produces the right result year after year
>Free software upgrade
Keep the system running always with the latest version program
>Consumables and accessories
From sample preparation to calibration standards.